Absolutely U. Short Cuts was a series of single-chapter stories based upon the Absolutely U. franchise.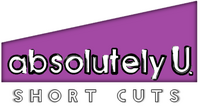 Purpose
[
]
As the original plans for episodes were cancelled in 2014, a new story medium was required to expand the franchise. Rather than long 'book format' stories, which would be more tedious to write and probably never make it into fruition, small single-chapter stories were chosen to depict situations in the world of AU. 
This format only released one title, and in 2016 was abandoned in favour of new episodes.
Format
[
]
Short Cuts usually revolve around one central character. The story will show different aspects of Absolutely University, and also delve into the world of dark magic that had not yet been incorporated into a story. 
The story may be a standalone release or may come as part of a series. They will often tie into the release of a fashion line.
List of stories
[
]
Standalone stories
[
]