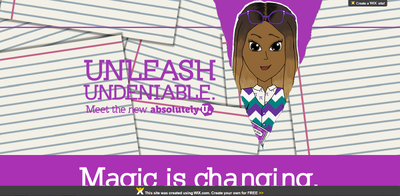 A new promotional website named Meet the New U. was released on April 10th 2016 to introduce the 2016 reboot of Absolutely U.
There was no prior hint that the reboot would be formally introduced via a website, only that the reboot would be shown on April 10th in some format.
On April 9th 2016, an image was posted on the front page of the wiki to advertise the opening of this website, featuring artwork of the redesigned Norah Cardew: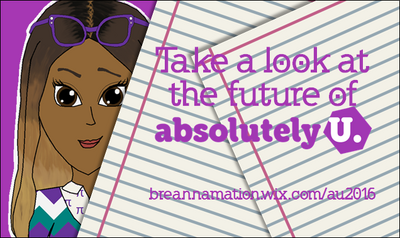 The next day, on April 10th, the 30 second trailer for the reboot, which also promoted the website, was posted on the official Tumblr.
The website, made on the Wix engine, begins with the lined-paper background, the text 'Unleash undeniable' and a 'cut-out' of the redesigned Norah Cardew. After this, a 30 second trailer is embedded to promote the site.
Next, the reasoning for the reboot is explained, while the new artwork of the main four characters is displayed. Next, a group image of eight characters - five returning, three new - are displayed, leading into text promoting the new body types and enhanced diversity. Finally, a link is displayed to take users to the official Tumblr.
Announcements and confirmation
Edit
Several details of the reboot were announced, including
The inclusion of both existing and new characters in the recurring cast.
The addition of a curvy 'plus' body type.
The addition of taller and shorter body types for both girls and boys.
Girls being able to wear flats for the first time (the first character to be able to wear flats is the redesigned Marley Leverson).
Additionally, it appears that the boys base has been altered to be shorter, so that it matches the height of an original girls base with heels. For example, the redesigned Lance Ollison matches height-wise with the redesigned Orienna Jefferson, though the new African-American male character is shorter than both of them, whereas the redesigned Devin Chung is taller (as he is on the new tall boys base).
Confirmed characters
Edit
Nine returning characters were confirmed to be returning for the reboot via the website, and two more were confirmed in the video.
New characters
Edit
Five new students were also confirmed, though thus far there have not been names provided for some of them.
On Friday 15th July, the short African-American boy character was confirmed to have the name Aubin Slattery via a Tumblr post.
Community content is available under
CC-BY-SA
unless otherwise noted.