Absolutely U. is a franchise created by Breanna Burton, which consists of characters and possible upcoming content depicting storylines. It was created originally in 2013, and is due to be rebooted in 2016.
Production
[
]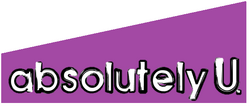 While creating new artwork for her Monster High OCs, Burton decided to create a new idea which she could blend in her own way, as she could not with her Monster High ideas since there was a whole canon to keep to. She kept the supernatural element but made characters that went to a university, so they could branch out with more mature ideas while still aimed to a PG-13 audience. In secret, Burton spent time creating characters and plotlines featuring these characters, including art based on her Monster High work. However, she decided to create her own base to set a difference between the two franchises - the AU bases are smaller than those of Monster High. Burton posted teasers about the franchise on her DeviantArt and revealed the brand in the September of 2013, with the tagline 'Be who U are!'.
In early 2015, Burton began an overall franchise revamp, including the use of new fonts in branding, new characters and a new tagline, #beundeniable. This would begin an effort to strengthen the franchise, and make it more suited to an older audience. Throughout February, Burton posted teaser images on the newly-made Tumblr account to promote the relaunch, as well as a video, leading up to the relaunch on March 1st.
After a long period of hiatus, in late 2015 Burton made the decision to reboot the brand entirely to 'save it'. The reboot will include a new logo, new character artwork and scripted episodes. The reboot was announced and previewed over the course of a few months via Tumblr, Flickr and on its' own site Meet the New U. - with the start of the official launch onto the wiki taking place in the weekend of July 30th and 31st.
Overview
[
]
The series revolves around university level student Norah Cardew, who is sent to a secretive university named Absolutely University, where she discovers her own magic powers. She shares adventures with her new dorm mates Marley Leverson, Sienna Melworth and Valeri Sewell, while encountering new friends (and frenemies) along the way. While doing this, she's writing her own destiny in becoming a successful magic student.
Along the way, evil sorcerer Clorrowick is planning a major-scale attack on A.U. utilising dark magic, though the authority of the university are aware of the danger - and current student body president Quinn Lawson sees potential in Norah, up to the point where Norah is able to lead A.U. also. 
Characters
[
]
Main article: Characters
The character roster of Absolutely U was designed as an ensemble of university-age students, each with a unique spell and a magical major - these characters lead the stories of Absolutely U. There are also characters that are family members and staff of Absolutely University.
Trivia
[
]
Absolutely U. is just one of the brands created as part of the Breannamation portfolio, including fellow character franchise Epic Girls and the Undenial brand for fashion designs.